SHEPARD FAIREY (OBEY)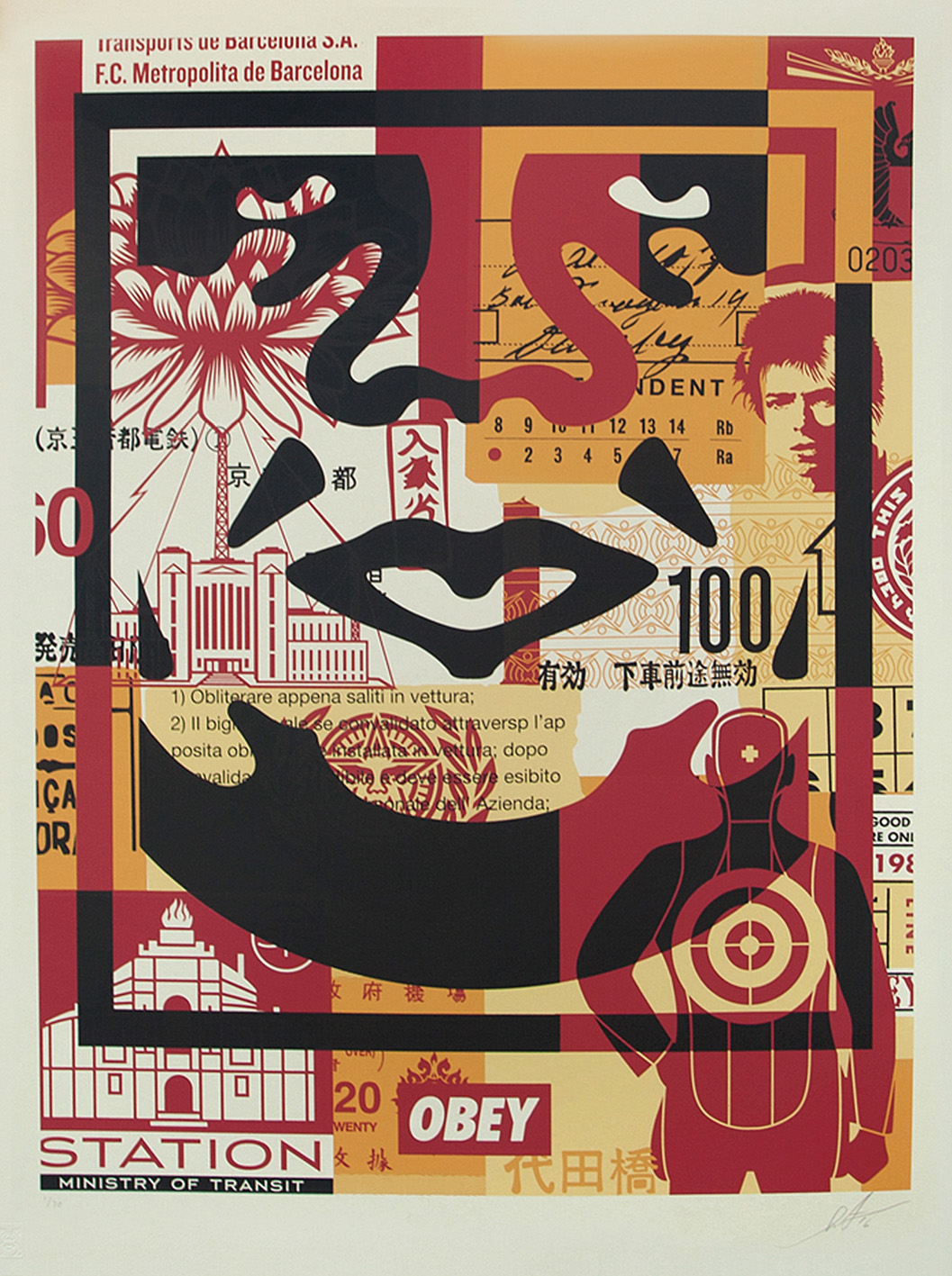 Shepard Fairey (A.K.A. Obey) –
OBEY 3 FACE COLLAGE
– 2016 – 46 x 60 cm
collage / lithograph –
[ca]
Artista urbà i dissenyador gràfic que forma part del moviment Street Art. Fairey desdibuixa el límit entre l'art tradicional i comercial a través de la font i la imatge, comunicant la seva marca de crítica social a través d'impressions, murals, adhesius i cartells en espais públics. És famós pels seus adhesius amb la imatge del lluitador televisiu André the Giant i pels seus dissenys que porten elements de cartells de propaganda política de mitjan el segle XX.
Aquesta obra forma part del conjunt vertical de tres cares amb el fons d'estil collage igual que un grup de pintures.
[en]
Urban artist and graphic designer, who is part of the Street Art movement along. Fairey blurs the boundary between traditional and commercial art through type and image, communicating his brand of social critique via prints, murals, stickers, and posters in public spaces. He is famous for his stickers with the image of the television fighter André the Giant and for his designs that take elements of the poster of political propaganda of the mid-twentieth century.
This piece of art is part of the three face vertical set with the collage style background as a group of paintings.
[es]
Artista urbano y diseñador gráfico que forma parte del movimiento Street Art. Fairey desdibuja el límite entre el arte tradicional y comercial a través de la fuente y la imagen, comunicando su marca de crítica social a través de impresiones, murales, pegatinas y carteles en espacios públicos. Es famoso por sus pegatinas con la imagen del luchador televisivo André the Giant y por sus diseños que llevan elementos de carteles de propaganda política de mediados del siglo XX.
Esta obra forma parte del conjunto vertical de tres caras con el fondo de estilo collage igual que un grupo de pinturas.