PERSUS NINE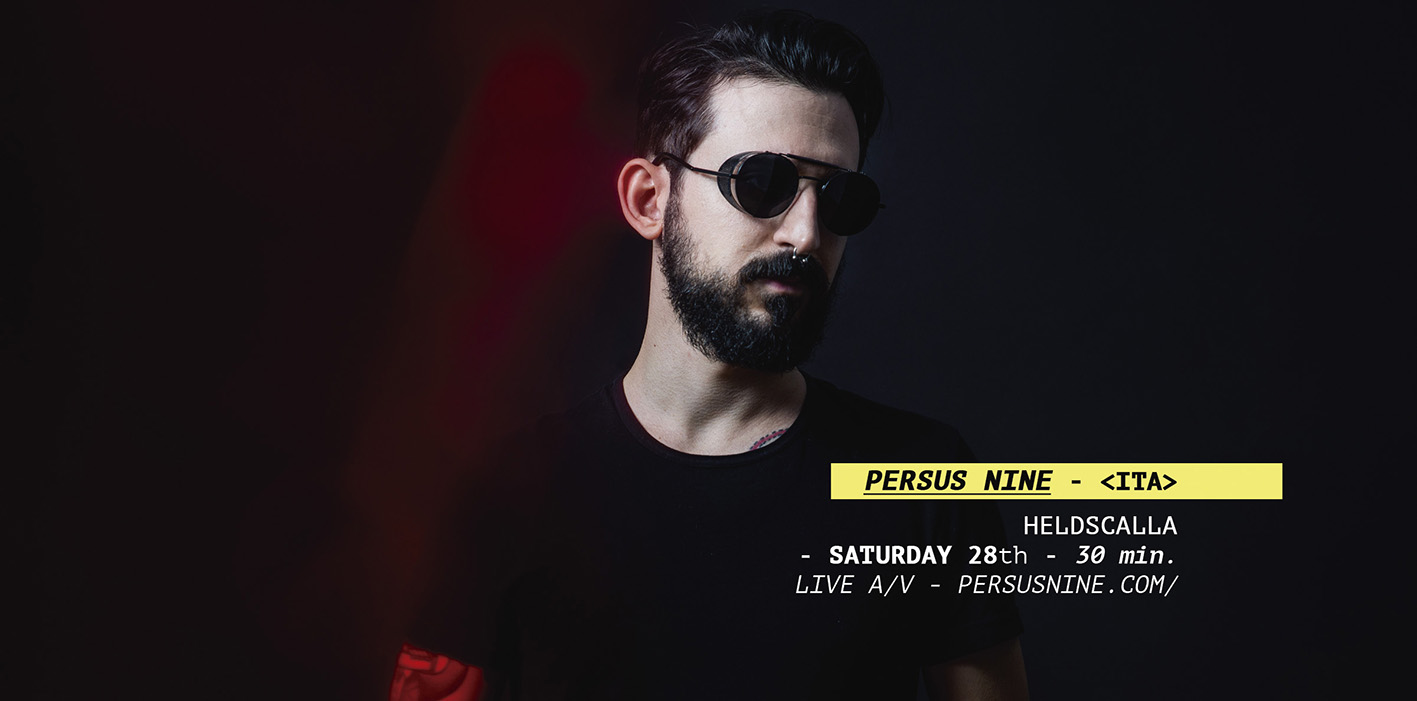 DISSABTE / SATURDAY / SÁBADO 28
19:30 hs – Persus Nine / Live · Audiovisual _ ESPAI BALCÓ
[ca]
Músic i productor distingit per ajuntar baixos profunds i atmosferes somiadores, transitoris ràpids i mostres inusuals.
«Heldscalla» és una ruta hipnòtica àudio / visual a través d'imatges i so reflectits. A causa de la gran duplicació i manipulació de les imatges de vídeo originals, l'ull percep fragments del que alguna vegada va ser familiar, però es va desconstruir i tornar a rostir d'una manera inusual i inquietant.
Com l'antiga catedral enfonsada de la qual pren el seu nom, la peça jeu al fons d'un oceà profund de inescrutabilidad, misteriosa i fins i tot perillosa per als que se submergeixen en ella.
[es]
Músico y productor distinguido por juntar bajos profundos y atmósferas soñadoras, transitorios rápidos y muestras inusuales.
«Heldscalla» es una ruta hipnótica audio/visual a través de imágenes y sonido reflejados. Debido a la gran duplicación y manipulación de las imágenes de video originales, el ojo percibe fragmentos de lo que alguna vez fue familiar, pero se deconstruyó y volvió a asar de una manera inusual e inquietante.
Como la antigua catedral hundida de la que toma su nombre, la pieza yace en el fondo de un océano profundo de inescrutabilidad, misteriosa e incluso peligrosa para quienes se sumergen en ella.
[en]
Musician and producer distinguished by pulling together deep basses and dreamy atmospherics, fast transients and unusual samples.
"Heldscalla" is an hypnotic audio/visual route through mirrored images and sound. Due to the heavy mirroring and manipulation of the original video footage, the eye perceives bits of what once was familiar, but deconstructed and sawn back together in an unusual, unsettling way.
Like the ancient sunken cathedral from which it takes its name, the piece lays on the floor of a deep ocean of inscrutability, mysterious and even dangerous to those who dive in it.
Link: https://www.persusnine.com/