NATALIA CARMINATI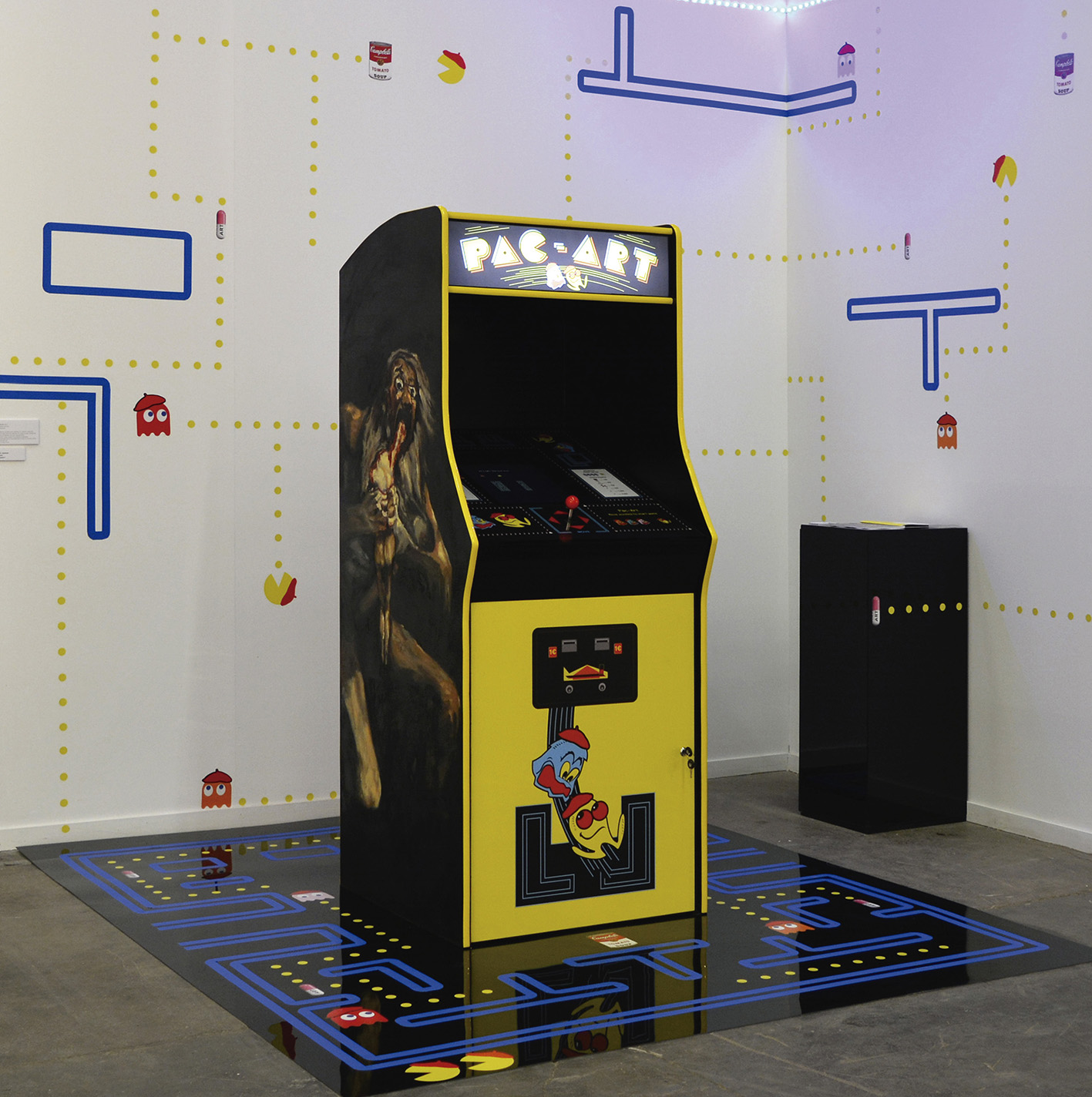 Natalia Carminati –
Pac-Art
– 2016 – 175 x 65 x 75 cm
Interactive multimedia installation –
[ca]
«Pac-Art» és una instal·lació interactiva multimèdia que funciona com a reflex de l'individualisme que impera en la societat contemporània.
L'obra s'apropia del Saturn de Goya per a mostrar l'avidesa de poder que governa les nostres relacions. Alhora, «Pac-Art» versiona al clàssic videojoc Pac-Man transformant-lo en un artista que ha de devorar tants artistes-fantasma, píndoles d'art i obres d'art com sigui possible per a acumular punts i guanyar. Així, els participants entren en una competició amb altres visitants convertint-se en partícips de les dinàmiques d'una societat cada vegada més individualista i competitiva.
[en]
«Pac-Art» is an interactive multimedia installation that shows how the struggle for power governs the relations among the beings of our human species.
The work shows two versions of Goya's Saturn as a reflection of the tacit cannibalism that interweaves human relations through time. Also, «Pac-Art» is a version of the popular video game Pac-Man in which Pac-Man is an artist who has to devour as many ghost-artists, art pills and works of art as possible to accumulate points and win. Thus, the visitors enter a competition against themselves and other players becoming participants of the dynamics of an increasingly competitive society.
[es]
«Pac-Art» es una instalación interactiva multimedia que funciona como reflejo del individualismo que impera en la sociedad contemporánea.
La obra se apropia del Saturno de Goya para mostrar la avidez de poder que gobierna nuestras relaciones. A la vez, «Pac-Art» versiona al clásico videojuego Pac-Man transformándolo en un artista que tiene que devorar tantos fantasma-artistas, píldoras de arte y obras de arte como sea posible para acumular puntos y ganar. Así, los participantes entran en una competición con otros visitantes convirtiéndose en partícipes de las dinámicas de una sociedad cada vez más individualista y competitiva.