HUGO CARRASCO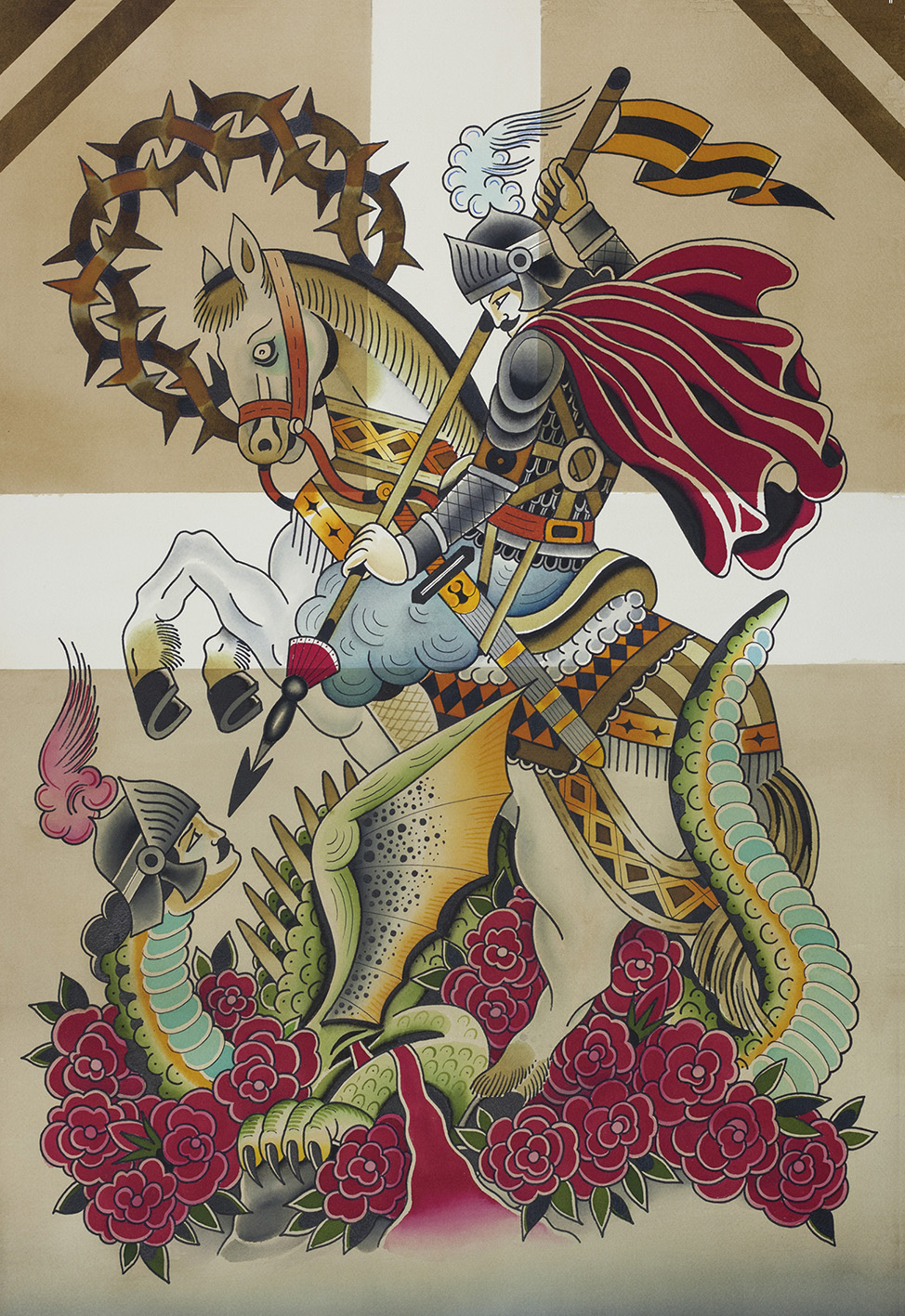 Hugo Carrasco –
El Guerrero
– 2016 – 58 x 83 cm
Painting / mixed media on watercolor paper –
[ca]
Aquesta interpretació de Sant Jordi parteix de la icona clàssica per a reinterpretar-lo en el llenguatge visual del tatuatge. La imatge, com la llegenda, ens parla de la lluita contra l'ego per a buscar la florida del nostre jo més lluminós. Forma part de l'exposició itinerant «La Escalera», que ha recorregut diferents països d'Europa i Llatinoamèrica per a recaptar fons per a la Reserva Orquídies, un projecte de conservació i reforestació de zones d'alt interès ecològic prop de Medellín (Colòmbia).
[en]
This interpretation of Sant Jordi is based on the classic icon which is recreated in the visual language of tattoo. The image, like the legend, tells us about the struggle against the ego to seek the flowering of our brightest self. It is part of the itinerant exhibition «La Escalera», which has toured different countries in Europe and Latin America to raise funds for the Orquideas Reserve, a conservation and reforestation project in areas of high ecological interest near Medellin (Colombia).
[es]
Esta interpretación de Sant Jordi parte del icono clásico para reinterpretarlo en el lenguaje visual del tatuaje. La imagen, como la leyenda, nos habla de la lucha contra el ego para buscar el florecimiento de nuestro yo más luminoso. Forma parte de la exposición itinerante «La Escalera», que ha recorrido distintos países de Europa y Latinoamérica para recaudar fondos para la Reserva Orquídeas, un proyecto de conservación y reforestación de zonas de alto interés ecológico cerca de Medellín (Colombia).