GOMMAAR GILIAMS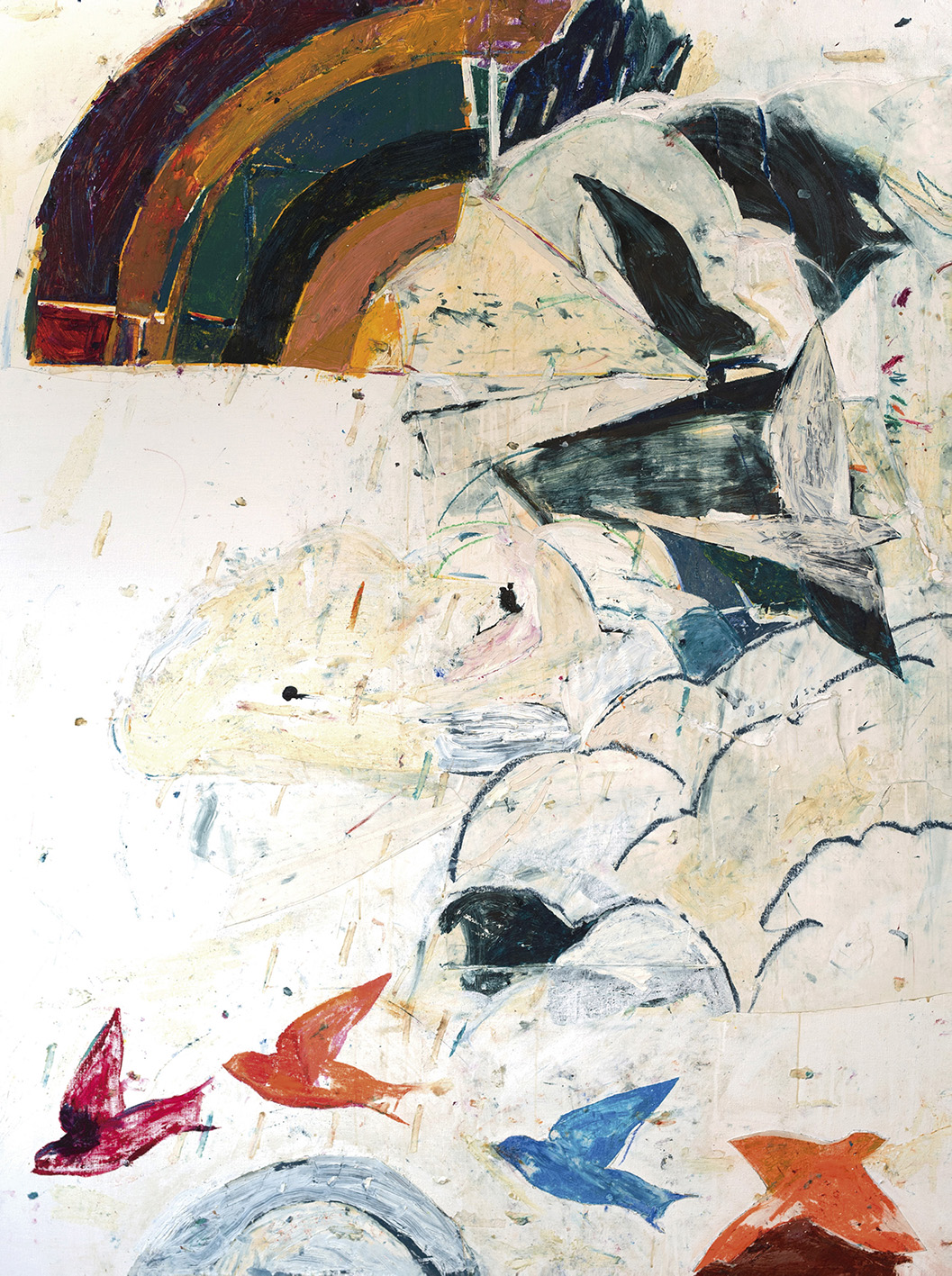 Gommaar Gilliams –
Untitled (Crescent Height Series)
– 2018 – 150 x 200 cm
Painting / mixed media on canvas –
[ca]
Gommaar Gilliams és llicenciat en Arts Visuals i en Pintura. Els seus treballs més recents tracten sobre l'anhel pel qual Gommaar construeix un món de somnis personal però universalment relatable, caracteritzat per la malenconia i la dualitat del dia i la nit i els símbols, com pluja, flora, arc de Sant Martí, ocells, arquitectura, estrelles i llunes. Les seves pintures i treballs en tela són assemblatges de diferents materials, colors, textures, símbols i elements de la història de l'art i la cultura. En primer lloc, l'artista sembla buscar un equilibri entre l'abstracció i la figuració.
[en]
Gommaar Gilliams holds masters degrees in Visual Arts and in Painting. His recent works deal with longing for which Gommaar builds a personal yet universally relatable dreamlike world, characterized by melancholy and the duality of day and night and symbols, like rain, flora, rainbows, birds, architecture, stars and moons. His paintings and fabric-works are assemblages of different materials, colours, textures, symbols and elements from art and cultural history. In the first place, the artist seems to search for a balance between abstraction and figuration.
[es]
Gommaar Gilliams tiene un Máster en Artes Visuales y en Pintura. Sus trabajos más recientes tratan sobre el anhelo por el cual Gommaar construye un mundo de sueños personal pero universalmente comprensible, caracterizado por la melancolía y la dualidad del día y la noche y los símbolos, como lluvia, flora, arco iris, pájaros, arquitectura, estrellas y lunas. Sus pinturas y trabajos en tela son ensamblajes de diferentes materiales, colores, texturas, símbolos y elementos de la historia del arte y la cultura. En primer lugar, el artista parece buscar un equilibrio entre la abstracción y la figuración.