FRANCO CARLESIMO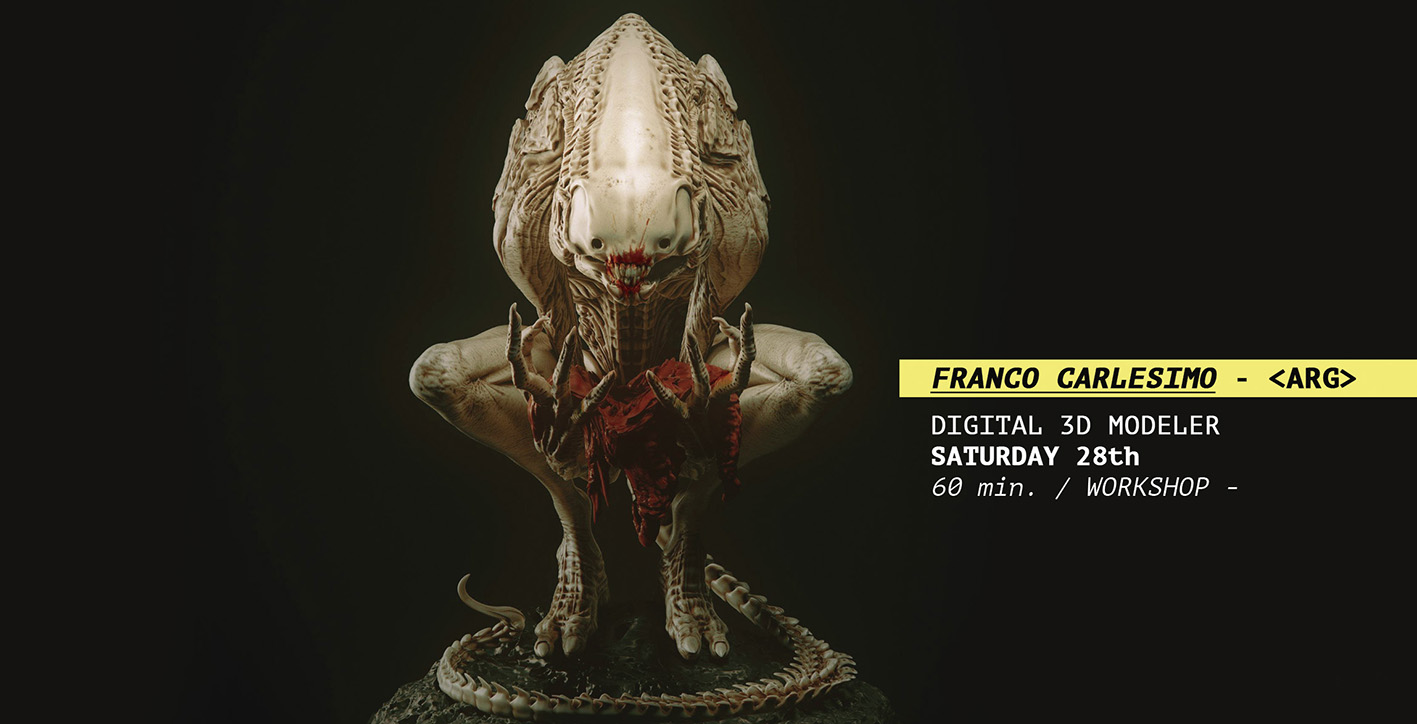 DISSABTE / SATURDAY / SÁBADO 28
18:20 hs – Franco Carlesimo / Workshop _ ESPAI BALCÓ
[ca]
Franco Carlesimo és un artista 3D generalista nascut a Mar del Plata Argentina, amb més de 10 anys d'experiència treballant com a independent.
Al principi de la seva carrera va començar treballant d'il·lustrador, fent Motion Graphics, animació 2D, i amb el temps es va traslladar a l'3D. Un cop en aquest rubro va començar a treballar com 3D generalista per a estudis fent principalment comercials per a marques com HBO, Direct TV, The Guardian, Adidas, Game of Thrones, i moltes altres.
Durant els últims 3 anys es a enfocat a treballar principalment fent models per col·leccionables. Per companyies com Iron Kite, Semic i Legendary Beast Studios. També fent moltes comissions privades.
Entrades gratuïtes amb inscripció prèvia fins a completar aforament (límit 60 persones).
Inscripcions a través de: kronosartfest.produccion@gmail.com
[en]
Franco Carlesimo Is a 3D generalist artist born in Mar Del Plata Argentina with over 10 years of experience working as a freelance.
For the beginning of his carrier , he started doing illustration, Motion Graphics, 2D animation, and eventually move in to 3D . After that, he work as a 3D generalist mostly for studios doing commercials for brands such as HBO, Direct TV, The Guardian, Adidas, Game of Thrones, and many others.
For the last 3 years he is been focusing only in working as a modeler for collectibles. for companies like Iron Kite, Semic and Legendary Beast studios. Also doing many private commissions.
Free tickets with prior registration until capacity is reached (limit 60 people).
Registration through: kronosartfest.produccion@gmail.com
[es]
Franco Carlesimo es un artista 3D generalista nacido en Mar del Plata Argentina, con más de 10 años de experiencia trabajando como independiente.
Al principio de su carrera comenzó trabajando de ilustrador, haciendo Motion Graphics, animacion 2D, y con el tiempo se trasladó al 3D. Una vez en este rubro comenzó a trabajar como 3D generalista para estudios haciendo principalmente comerciales para marcas como HBO, Direct TV, The Guardian, Adidas, Game of Thrones, y muchas otras.
Durante los ultimos 3 años se ha enfocado en trabajar principalmente haciendo modelos para coleccionables. Para compañías como Iron Kite, Semic y Legendary Beast Studios. También haciendo muchas comisiones privadas.
Entradas gratuitas con inscripción previa hasta completar aforo (límite 60 personas).
Inscripciones a través de: kronosartfest.produccion@gmail.com
Link: https://carlesimo.artstation.com/