DAVID BARRERA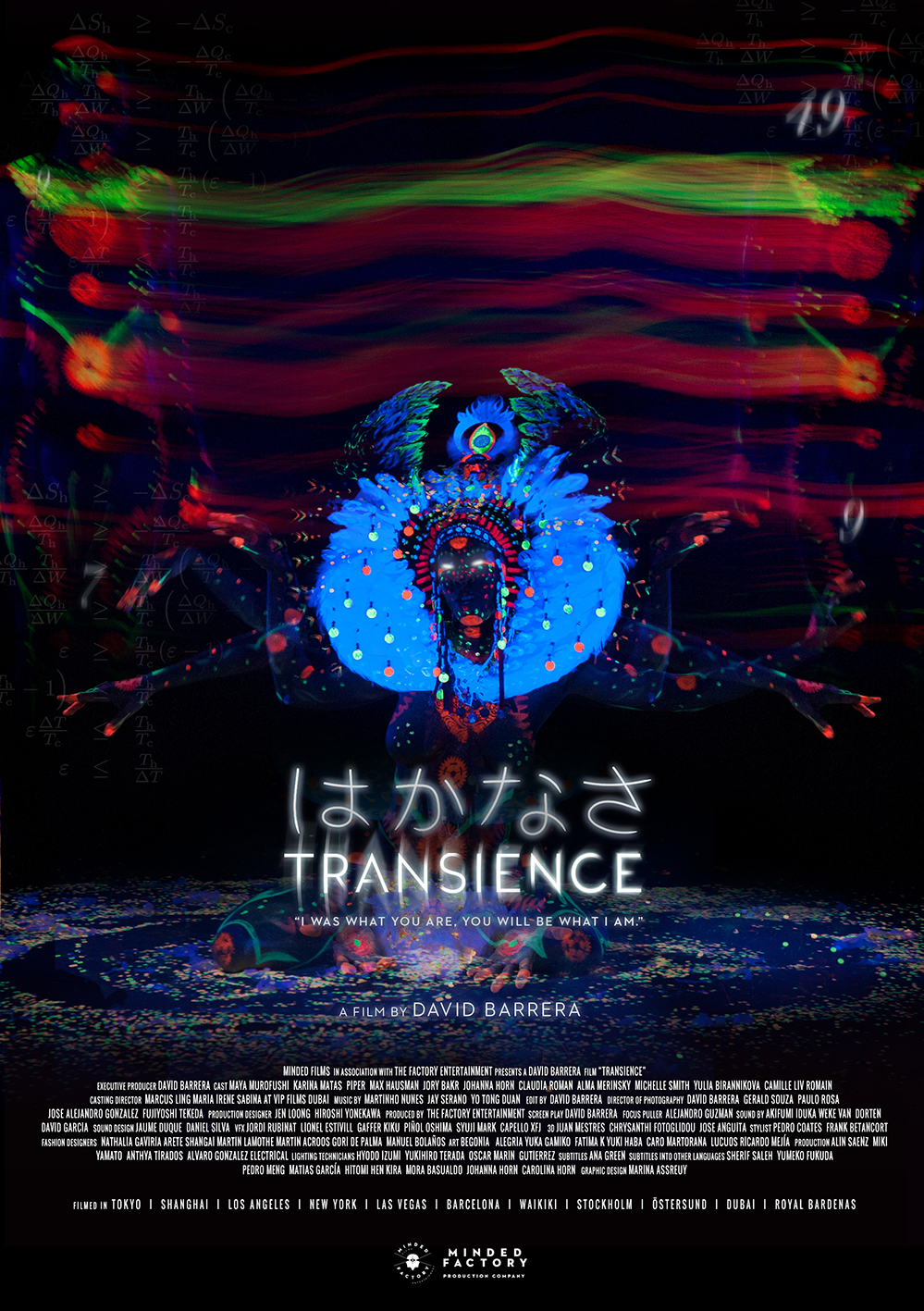 DIMARTS / TUESDAY / MARTES 24
17:00hs – TRANSIENCE – Fiction / experimental – 27 min – 2018
[ca]
Levana persegueix el costat fosc de la naturalesa, en l'univers sobrenatural que es troba més enllà de la consciència. La impermanència o el canvi és una doctrina essencial, ja que totes les coses són temporals, és un esforç inútil que només condueix a un fi. Tota existència condicionada està, sense excepció, subjecta a canvis. Diferents estats de la ment i la consciència, la unió de tots en una ànima buscant reencarnar. La glàndula pineal es fa visible en el fetus humà després de 49 dies, l'ànima de Levana disposa de la mateixa quantitat de dies per intentar reencarnar. La consciència de Levanas tem desaparèixer, té por del descans etern i només pensa en la mort com una transició de la vida, creu que la mort proporciona la solució per acabar amb el sofriment. Només té 49 dies i fa servir la glàndula pineal com un canal espiritual, i la dimetiltriptamina DMT com a catalitzador, per obtenir les respostes a les seves preguntes. La cerca per trobar la noció de insubstancialitat és incessant.
[en]
Levana pursues the dark side of nature, in the supernatural universe that lies beyond the consciousness. The impermanence or change is an essential doctrine, since all things are temporary holding on to them is a futile effort that only leads to one end. All conditioned existence is, without exception, subject to change. Different states of mind and consciousness, the union of all in one soul searching to reincarnate. The pineal gland becomes visible in the human fetus after 49 days, Levanas soul disposes of the same amount of days to try to reincarnate. Levanas consciousness fears to disappear, it fears the eternal rest and only thinks of death as a transition of life, it believes that death provides the solution for ending the suffering. She only has 49 days and uses the pineal gland as a spiritual channel, and DMT dimethyltryptamine as a catalyst, to get the answers to her questions. The search to find the notion of insubstantiality is ceaseless.
[es]
Levana persigue el lado oscuro de la naturaleza, en el universo sobrenatural que se encuentra más allá de la conciencia. La impermanencia o el cambio es una doctrina esencial, ya que todas las cosas son temporales, es un esfuerzo inútil que solo conduce a un fin. Toda existencia condicionada está, sin excepción, sujeta a cambios. Diferentes estados de la mente y la conciencia, la unión de todos en un alma buscando reencarnar. La glándula pineal se hace visible en el feto humano después de 49 días, el alma de Levana dispone de la misma cantidad de días para tratar de reencarnar. La conciencia de Levanas teme desaparecer, teme al descanso eterno y solo piensa en la muerte como una transición de la vida, cree que la muerte proporciona la solución para acabar con el sufrimiento. Solo tiene 49 días y usa la glándula pineal como un canal espiritual, y la dimetiltriptamina DMT como catalizador, para obtener las respuestas a sus preguntas. La búsqueda para encontrar la noción de insustancialidad es incesante.
Link: https://www.mindedfactory.com/