BISTU RYX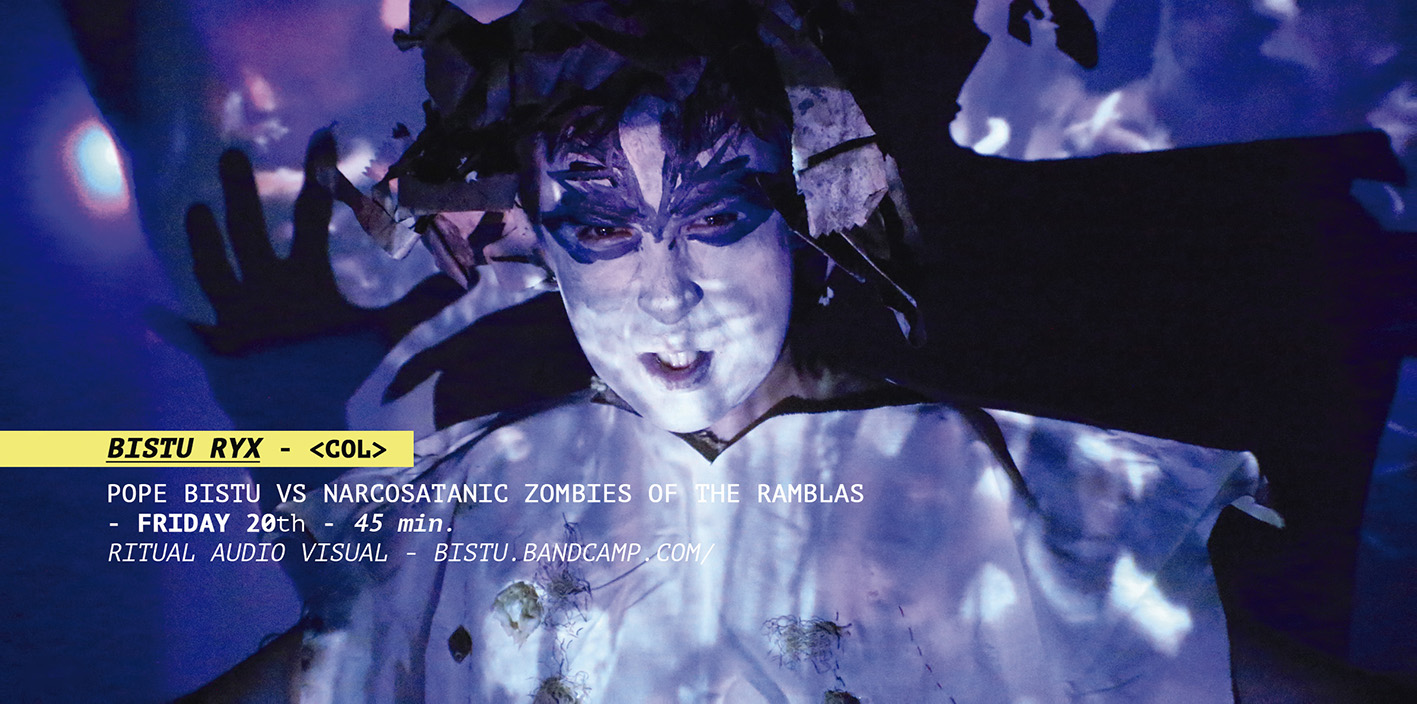 DIVENDRES / FRIDAY / VIERNES 20
19:20 hs – Bistu Ryx / Performance _ ESPAI BALCÓ
[ca]
Bistu RYX Vs. Narcosatánicos Zoombie presenten la seva obra audiovisual, la qual es regeix segons un estricte ordre ritual del vudú, seguint els patrons de les processons i pronunciant unes frases en l'idioma Yoruba.
Com sempre, les performances bisturianes tendeixen a no deixar ningú a la cadira. Aquesta performance convida a despertar els cadàvers mutants que habiten la Rambla.
«La profunda crisi contemporània ens ha fet reflexionar sobre l'origen de l'ésser humà i aquesta acció té com a objectiu SACSEJAR el cap zombi que està enganxat al telèfon, com és el cas dels Whatsappiens.»
[en]
Bistu RYX Vs. Narcosatánicos Zoombie present their audiovisual work which is ruled by a strict ritual order of Voodoo, following the patterns of the processions and pronouncing some sentences in Yoruba language.
As always, Bistu's performances tend not to leave anyone on their chair. This performance invites to awaken the mutant corpses that inhabit La Rambla.
«The deep contemporary crisis has made us reflect on the origin of the human being and this action aims to SHAKE the zombie head that is stuck to the phones as it's the case of the WhatsAppiens.»
[es]
Bistu RYX Vs. Narcosatánicos Zoombie, presentan su obra audio visual la cual se rige bajo un estricto orden ritual del Vudú, siguiendo los patrones de las procesiones pronunciando unas frases en el idioma Yoruba.
Como siempre, las performances bisturyanas tienden a no dejar nadie en su silla. Esta performance invita a despertar los cadáveres mutantes que habitan en la Rambla.
"La profunda crisis Contemporánea nos ha hecho reflexionar sobre el origen del ser humano y esta acción tiene como objetivo SACUDIR la cabeza zombi que está pegada al teléfono como es en el caso de los Whatsappiens".
Link: https://soundcloud.com/bistu