ANDREAS ENGLUND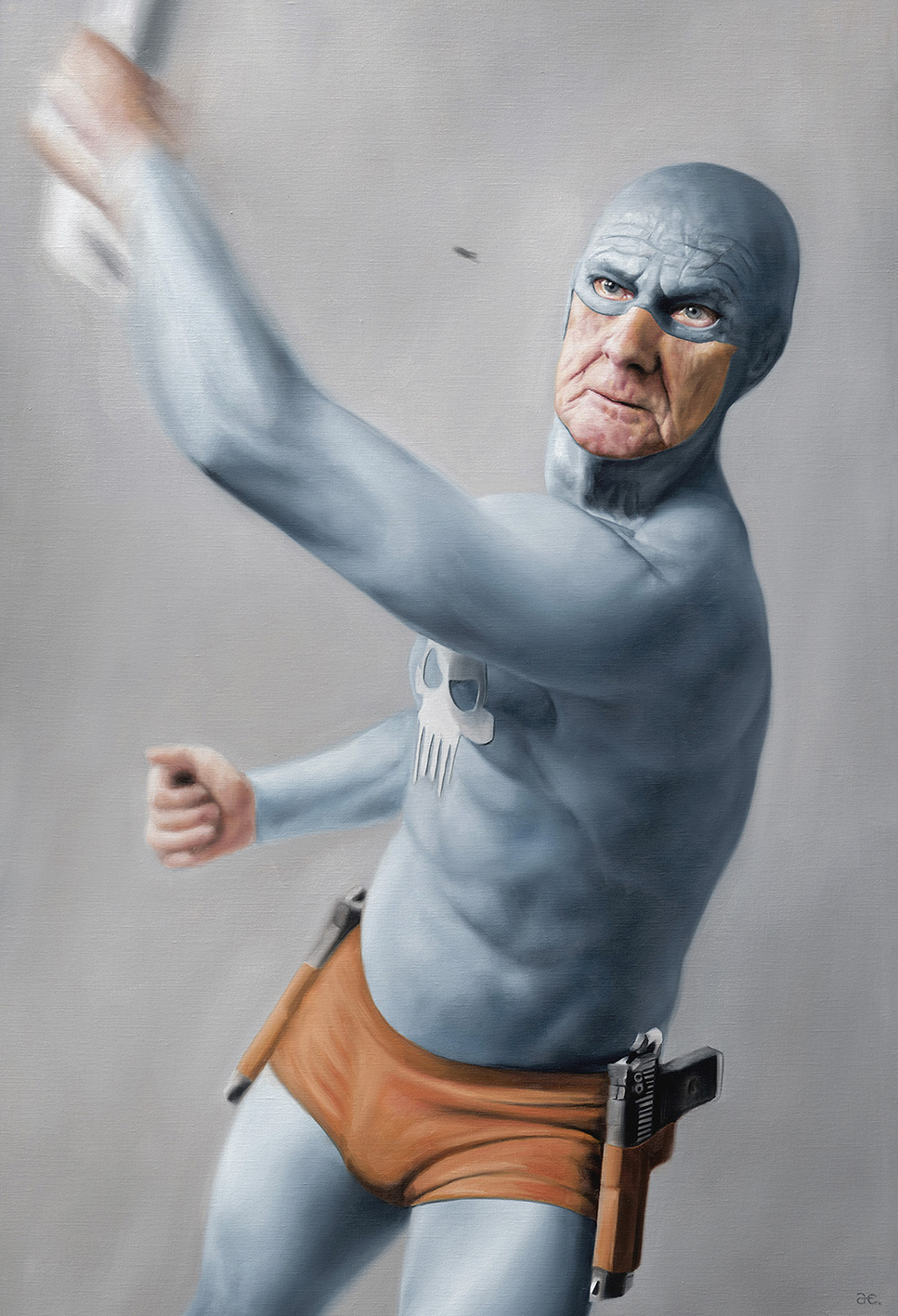 Andreas Englund –
Superfly IV
– 2016 – 89 x 140 cm
Painting / Oil on canvas –
[ca]
Un tema recurrent en el treball de Andreas Englunds és desafiar els estereotips. Principalment reconeguda és la seva descripció de la vida quotidiana d'un superheroi anònim. La sèrie abasta des de la primera missió del superheroi, com un nen petit, fins a ser un ancià, que encara lluita amb les trivialitats quotidianes.
«No volem ser jutjats per preconcepcions nocives i falses basades en el gènere, l'edat o l'aparença física. Trencar els estereotips i desafiar les idees preconcebudes sempre serà més interessant que acceptar-los.»
El perfeccionisme còmic en els motius és la característica única de la sèrie d'art.
[en]
A reoccurring theme in Andreas Englunds work is about challenging stereotypes. Mostly recognised is his depicting of the everyday life of an anonymous superhero. The series ranges from the superhero's first mission as a toddler to being an old man, still struggling with everyday trivialities.
«We don't want to be judged on harmful and false preconceptions based on gender, age or physical appearance. Breaking down stereotypes and challenging preconceptions will always be more interesting than to accept them.»
The comical perfectionism in the motifs is the unique feature of the art series.
[es]
Un tema recurrente en el trabajo de Andreas Englunds es desafiar los estereotipos. Principalmente reconocida es su descripción de la vida cotidiana de un superhéroe anónimo. La serie abarca desde la primera misión del superhéroe, como un niño pequeño, hasta ser un anciano, que aún lucha con las trivialidades cotidianas.
«No queremos ser juzgados por preconcepciones dañinas y falsas basadas en el género, la edad o la apariencia física. Romper los estereotipos y desafiar las ideas preconcebidas siempre será más interesante que aceptarlos.»
El perfeccionismo cómico en los motivos es la característica única de la serie de arte.